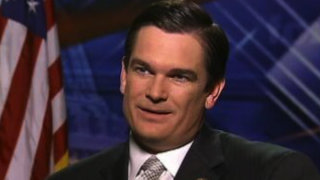 Georgia Republican Congressman Austin Scott makes his debut on Fox Across America With Jimmy Failla, and pushes back against claims made by President Biden and other Democrats that there is voter suppression happening in the Peach State.
Biden is heading down to Georgia on Tuesday to give a speech on voting rights. This is a historically Republican state that he narrowly won in the 2020 presidential election. Rep. Scott thinks the Commander in Chief is pandering to his base by making assertions about the right to vote being under attack in the U.S. According to the Congressman, the facts are not on the President's side here.
"In this last election, there were 4.9 million people that turned out to vote this past year. So, they stand out there and they scream voter suppression and everything else, but the facts just don't back him up on this. We had one million more voters this last election than we've had in any previous election in the State of Georgia, but he's going to come down and stand up there and say some things that aren't true."
Later, Jimmy and Rep. Scott discuss the false statistic about the amount of children hospitalized with COVID-19 which was put forth by Supreme Court Justice Sonia Sotomayor. CDC Director Dr. Rochelle Walensky later clarified that number in an interview with Fox's Bret Baier.
Fox News Contributor Johnny Joey Jones also joins the show to tell us how he's feeling about his Georgia Bulldogs ahead of their matchup with the Alabama Crimson Tide in the College Football National Championship game. Listen to the podcast to hear what else Rep. Scott and Johnny had to say!