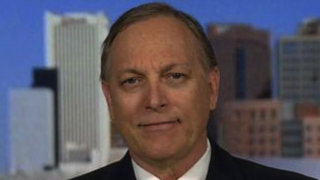 Arizona Republican Congressman Andy Biggs joins Fox Across America With Jimmy Failla to bring attention to the crisis at the U.S. Southern border.
Last week, Vice President Harris traveled to Honduras as part of her ongoing effort to determine the "root causes" of illegal immigration. This as Customs and Border Protection reports 178,840 migrants were apprehended at the border in December of 2021. Rep. Biggs says Republicans' efforts to shed light on this issue have resulted in Americans caring more about securing the border during the first year of Joe Biden's presidency.
"The issue itself was not even a top five issue in the country. You had the first record in February, and it still wasn't a top five issue. What the Border Security Caucus and House Freedom Caucus said is, we've got to raise the level here of awareness. Folks like you talk about it, but you can't get the left-stream media to say anything. We tried to put it out there. The more we go, the more we try to create this fire of the narrative, what you see is the American people now have made this a top five issue. This is like the number three issue for them."
Rep. Biggs also explains why he thinks Dr. Fauci needs to be held accountable for spreading misinformation about COVID-19 during the pandemic.
Later, comedian Bob Zany stops by to talk about life on the road, his unique career and Jimmy's recent shows in Carson City.
To hear what else Rep. Biggs and Bob had to say, listen to the podcast!