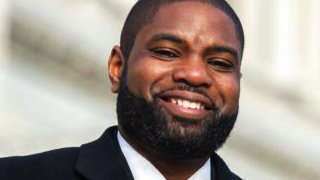 Florida Republican Congressman Byron Donalds stops by Fox Across America With Jimmy Failla to bring attention to inflation and how it's impacting average Americans. According to him, this issue is not being discussed enough by his Democratic colleagues in Washington D.C. or President Biden.
"The President has his own chef. They cook him whatever he wants whenever he wants it. He doesn't work for anything. He's not out there working 10 hours a day, and then he's got to go to the supermarket and be like, oh wait a minute, this stuff's more expensive. And then the gas he puts in his car, because the man hasn't pumped gas in I don't know how long, the gas he puts in his car is more expensive too. He doesn't deal with that. So in Washington, nobody's even talking about inflation. What they're talking about is how to get Build Back Better through the Senate, and now they're talking about the continuing resolution. That's all they're thinking about. They're not thinking about the implications of what Washington has done on the lives of the American people."
Rep. Donalds also explains why he still has more swagger than his Florida colleague, Rep. Greg Steube. Listen to the what else he had to say on the podcast!