Tug Cowart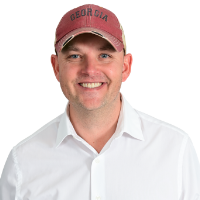 I am Georgia born and raised, originally from Dalton,but now I live in Alpharetta with my wife Laura and my son Jakob. My family and I are members of Perimeter Church in Johns Creek, and my son keeps me and my wife really busy playing sports. He focuses on baseball, with Georgia Jackets Baseball Club.
I served 4 years in the United States Navy and am a strong advocate and supporter of our men and women in uniform. I am very proud to be from the state of Georgia; how proud you ask? Well, when I was stationed in Jacksonville, Florida which had no state tax, I wouldn't change my residence away from Georgia to save my self some money.
I have been in radio for 19 years with 11 years in Atlanta market. I started at a little station in my hometown of Dalton, GA. then on to Chattanooga, Tennessee before landing a job here in Atlanta. I did mornings and afternoons on Kicks 101.5 for a long time. My whole career I have always worked country radio, and still do, but have always wanted to cover sports more. You can always find me cheering for the Braves, Bulldogs, Falcons and Hawks. Having said that, I really do pull for all the teams from Georgia including Georgia Tech, Georgia State, Georgia Southern, Kennesaw State. I love the Georgia Swarm, Atlanta Gladiators and Atlanta United as well!
---
Scott "Rhino" Rheinhold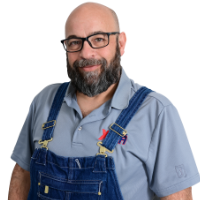 Scott RHINO has been in the Atlanta Radio Market for over 25 years.

Scott, or "Rhino" as he is known, is currently a host on "The Morning Extra" with Tug Cowart and Carlos Media. Rhino is also a Fox News Radio Contributor and guest host of The Guy Benson Show, heard on 600+ stations nationwide and on Sirius XM Radio.
Scott lives in Hiawassee, GA and is a self-proclaimed "Man of the Mountains". He spends his day farming, cutting trees, and mowing lawns for his older neighbors.

He is a nationally ranked men's competitive softball player and also loves playing hockey, camping, hiking, shooting guns, and hosting his youtube show.
He started his radio radio career in New York at 95.5 WPLJ as an intern with Scott Shannon and the promotions team. Scott moved to Atlanta in 1994 and finished school and accepted a job in 1996 as a producer and production director at 790 The Zone in Atlanta. Two years later he found himself as the promotions director at WSTR Star 94 in Atlanta. Scott then accepted a job with Dickey broadcasting as they launched 680 The Fan. Scott was a producer , reporter, sports update guy and personality working on The Buck & Kincade Show.
Scott covered the Hawks, Thrashers, Falcons and Braves as well as Georgia Tech and University of Georgia football and basketball.
---
Carlos Medina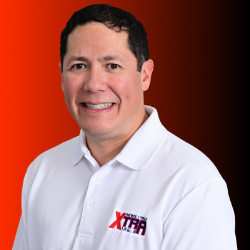 Carlos Medina comes to XTRA 106.3FM from Dickey Broadcasting's sister station 680 The Fan where Carlos has worked since 2004. While there, he was known as "Front Office Los" for his knowledge of team statistics, standings and finances. Building on that experience, Los brings his statistics skills and knowledge to The Morning XTRA where he'll give you the numbers behind the biggest news stories in Georgia and America!
Carlos is a graduate of the University of Alabama (We don't hold that against him!) with a Master's Degree in Global Business. When he's not analyzing random statistics for fun, he enjoys fishing, golf and tailgating.
He's happily married and father of two daughters. The three ladies keep him plenty busy at home when he's not working the mic on XTRA.