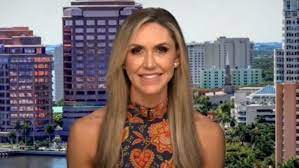 Fox News Contributor Lara Trump joins Fox Across America With Jimmy Failla to weigh in on the turmoil in Vice President Kamala Harris' office and the VP's treatment of her former employees. Lara discusses why she thinks so many staffers have recently left Harris' office.
She also shares her thoughts on a recent op-ed in The Washington Post by Dana Milbank which claims President Biden's media coverage is at times worse than Donald Trump's when he was in the Oval Office. According to Lara, the press has gone out of their way to protect Biden at every turn and spin the news in a positive light for him.
"It's absolutely preposterous to think that Joe Biden gets more negative press than Donald Trump. It's not that he's getting bad press, it's that he's a bad leader, that he's made bad decisions, that everything he's done has been basically negative for the American people. So I think if you're looking for the problem Joe, maybe just take a quick look in the mirror and I think we'll figure it out."
Later, Professor of Business and Economics at The King's College in Manhattan and Fox News Contributor Brian Brenberg joins the show to talk about outgoing New York City Mayor Bill de Blasio's new vaccine mandate for private employers.
Listen to the podcast to hear what else Lara and Brian had to say!