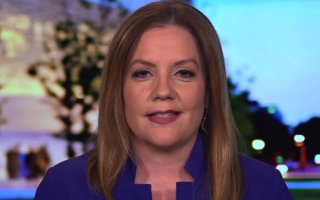 Senior Editor of The Federalist and Fox News Contributor Mollie Hemmingway stops by Fox Across America With Jimmy Failla to talk about Twitter's decision to begin imposing penalties on people who claim vaccinated people can still spread COVID-19.
According to her, Twitter is censoring a narrative the Centers For Disease Control does not dispute.Mollie also weighs in on the multiple crises currently facing the Biden Administration, and their refusal to recognize the magnitude of these problems.
"Part of the problem is, you can't fight a common enemy when you have a big chunk of people not even admitting that there's a problem. The Biden White House keeps doing that crazy thing of saying that inflation isn't a problem , or that the border is going well, or that the economy is going well or that gas prices aren't rising. You know that what they're saying isn't true. You already start with not feeling confident in their ability to help the situation, but then when they're denying the reality that everybody experiences every day, it's deeply alarming and unsettling. So it's hard to fight together when they're denying what we all know."
Jimmy and Mollie also discuss how President Biden has handled recent meetings with world leaders and Vice President Harris' low approval rating.
Later, Fox News Political Analyst Gianno Caldwell joins the show to talk about a report saying the NFL is funding 'defund the police' groups through its 'Inspire Change' program.To hear what else Mollie and Gianno had to say, listen to the podcast!