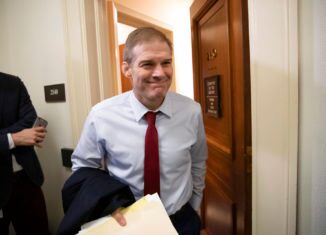 Ohio Republican Congressman and House Judiciary Committee Ranking Member Jim Jordan joins Fox Across America With Jimmy Failla to discuss how Democrats have politicized the Capitol riot that took place on January 6th, 2021.
It's been a year since a group of rioters breached the U.S. Capitol while Congress was certifying the 2020 presidential election results. President Biden marked the anniversary by giving a speech in which he pointed the finger at former President Trump for creating and spreading lies about the 2020 election. In her remarks, Vice President Kamala Harris compared the day to other tragedies in American history such as Pearl Harbor and 9/11.
Rep. Jordan thinks Biden, Harris and other Democrats continue to bring up the events of January 6th and connect Trump to them because they are trying to divert attention away from their own issues.
"The American people are so fed up with Democrats running everything and making a mess of it. Every single issue they have screwed up. I think that's exactly what this is up to. And frankly, tell me what else they have to talk about. They can't talk about the border. They can't talk about record inflation. They can't talk about going from energy independence to where we're at now. They can't talk about record crime happening in every major urban area in this country. So, they're going to talk about January 6th."
Rep. Jordan and Jimmy also talk about President Biden's handling of the pandemic and how he continues to blame the unvaccinated for spreading COVID-19, even though people who got the shot can still contract the virus and spread it to others.
Later, Arizona Republican Congressman Andy Biggs stops by to weigh in on the Vice President's January 6th comments. He also tells Jimmy why he thinks we need to be having an honest conversation about election integrity. To hear what else Rep. Jordan and Rep. Biggs had to say, listen to the podcast!