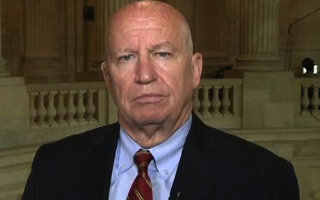 Texas Republican Congressman Kevin Brady joins Fox Across America With Jimmy Failla to detail the multiple ways in which President Biden hindered the U.S.'s economic recovery from the pandemic during his first 12 months in office.
Biden held his first press conference of 2022 to mark the one-year anniversary of his presidency. The current state of the economy was one of the many topics he was asked about by reporters. Rep. Brady, who is the Ranking Member of the House Ways and Means Committee, says the Biden administration's economic failures have prevented the country from bouncing back following the financial pain caused by COVID-19-realated shutdowns.
"He took his eye off COVID. Instead of focusing on how you defeat the virus and heal the economy, he just launched into that radical transformation of America, and ignoring the need for tests and treatments there and just hammering that COVID stimulus where very little went to COVID. Then, insisting on the $5 trillion Build Back Better bill. The other thing I think was a big mistake, he denied and dismissed inflation, and then he made it worse with his policies threatening massive tax hikes on America's businesses just as they were fighting to survive the pandemic. I think it's the biggest economic blunder in our lifetime. He punished work, making the labor shortage worse. Literally, his actions encouraged more Americans to stay home than reconnect to work. It's still happening. I think the bottom line is that his role destroyed confidence in America's recovery among families and small businesses."
Rep. Brady also explains to Jimmy why he is frustrated with the White House's lack of action when it comes to the situation at the U.S. Southern border.
Later, frequent "Gutfeld" panelist and Co-Host of the "Tyrus and Timpf Podcast" Kat Timpf stops by to share her thoughts on Vice President Kamala Harris' latest awkward interview. She also defends her take that dueling should be legalized.
Listen to the podcast to hear what else Rep. Brady and Kat had to say!