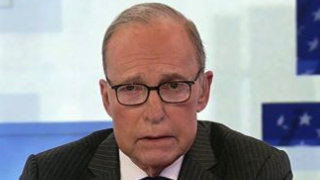 Host of "Kudlow" on Fox Business and former White House Economic Advisor Larry Kudlow joins Fox Across America With Jimmy Failla to detail President Biden's economic failures during his first year in office.
In his first press conference of 2022, Biden touted the strong job growth the U.S. has experienced over the last 12 months. However, the country has recently been dealing with skyrocketing inflation. According to Larry, the President's economic policies are hindering our ongoing revival from the COVID-19 pandemic.
"The pandemic recovery started in the middle of 2020. We called it the V-shaped recovery. Of course, in the campaign Biden denied it. He's just inherited the Trump tax cuts and deregulation, even though he's made a hash of it on things like energy which has driven up prices and he's re-regulating the business sector. Jobs are jobs, I'm happy about that. I want more people to go back to work. We're still short maybe four million jobs, and his policies would do great damage. The point is, if you ever had across the board tax rate increases on successful individuals, on companies, on small businesses on capital gains, on unrealized capital gains, if you ever put that stuff through, it would do enormous damage to the economy and jobs. He's running a policy which is anti-market, anti-capitalist and anti-growth. It's a stagnation policy."
Larry also weighs in on the possibility of Hillary Clinton making another bid for the White House in 2024.
Later, North Carolina Republican Congressman Greg Murphy talks to Jimmy about Dr. Fauci's handling of the pandemic and the harmful impact vaccine mandates are having on the economy. As the only practicing surgeon in Congress, he provides unique insight on the toll COVID-related lockdowns have taken on our society.
To hear what else Larry and Rep. Murphy had to say, listen to the podcast!