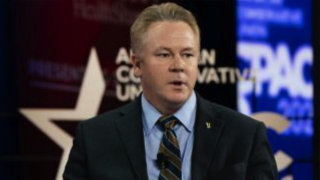 Ohio Republican Congressman Warren Davidson joins Fox Across America With Jimmy Failla to react to the Centers For Disease Control and Prevention finally acknowledging the effectiveness of natural immunity in protecting people against infection and hospitalization from COVID-19.
The CDC recently put out a study which found that when the U.S. experienced a surge in coronavirus cases from the Delta variant last year, people who previously had been infected were better protected than those who had received the vaccine alone.
Rep. Davidson thinks the U.S. should be counting natural immunity as the same thing as having been immunized against COVID-19.
"By not counting natural immunity in America, it overstates the effectiveness of the vaccines because a lot of people who have developed natural immunity after recovering from the virus also get vaccinated. Because the natural immunity was very effective, it artificially inflates the effectiveness of the vaccines. We don't have a pure dataset here in the United States. We don't even collect data on natural immunity in America. Thankfully, some other countries around the world do, and because of that we have some of these studies that have consistently shown that natural immunity's effective. In most other countries, they will count natural immunity as having been immunized because you developed immunity in a different way than the mRNA vaccines but in the traditional way. Historically, for everything it's been as effective or more effective, so that's where most countries will count it, but not America."
Rep. Davidson also lays out his concerns with President Biden's foreign policy, especially when it comes to the current situation in Eastern Europe with the buildup of Russian troops along Ukraine's border.
Later, frequent "Gutfeld" panelist and Co-Host of the "Tyrus and Timpf Podcast" Tyrus stops by to discuss the rampant spike in crime happening in many major U.S. cities. Plus, he and Jimmy break down the exciting weekend of divisional round games in the NFL playoffs.
Listen to the podcast to hear what else Rep. Davidson and Tyrus had to say!