Sark was a quick hire, but who else was coming in here to run Shannahan's offense? It was a tough decision but seemed like the right one to try to keep some sense of continuity with the offensive side of the ball!! Matt Ryan has seen more OCs than the Browns have seen QBs in the last 10 years (not really) but let's think about it.
Malarkey(08-11) Koetter (12-14) Shannahan (15-16) Sark (17) ! Stability early on with Malarkey and a fairly simple offense(I know, I played in it!!) and Koetter ran some of the same stuff Malarkey did in his first year then had a drastic change after, team was bad tho!! Shanny had a rough first year as did Matt, totally new system, new verbiage, new voices and so on. Now we have Sark, running a system other than his own, learning all the nuances of calling plays (that aren't his) in the NFL!! If we give this a little more time maybe it will work out!! Falcons were 7-5 before that run they went on last year!! Let's take a deep breath, R-E-L-A-X and see what happens in the next 2-3 games!! If it is still reminiscent of hot garbage then we can all freak out together, I will lead the charge!!
RiseUp Brotherhood! Brothership Compete!
Brian Finneran
Co-Host of "The Front Row"

 @BFinn86

Braves Fantasy Camp was really fun, special deal for guys that get a chance, have the time and $$$$ to experience something like this!
OK, Grissom, P. Smith, D. Smith, Jay Howell is a beauty, Rocker is a beast and was pretty cool to warm up before our game with him, Javy Lopez is a sweetheart, Klesko was fun and gave us batting lessons, Leo in the bullpen talking shop and teaching us how to pitch was fricking amazing, the staff for the Braves were fantastic. We played 4 games on the field, used visiting team club house, got 2 full uniforms and a bat to take home, met some great campers and had a blast, special deal!
Ok now, performance, started rough, and ended strong. Went 4 for 7 yesterday and with 2Ks in my first 2 ABs…………against the pitching machine!! B R U T A L!!! Made some very nice plays in center field! My injuries, sore right groin, sore right hammy, I think I broke a thumb, or I have a wrist issue? shit hurt so bad!! throwing arm is sore, pulled an oblique or something in the rib cage area! New found respect for these guys, really appreciate how good they are!! Thanks to Greg McMichael and the Braves organization for a memory that will last a life time!!
Brian Finneran
Sent from my iPhone
Millsap is gone and so is every other good player from 3 years ago! Time to suck for a while and get in the lottery and hope for the best!! Dump Dwight or even better keep him here and suck!! Apathy has set in. Who is this teams GM? It's official—the Atlanta Hawks have hired Travis Schlenk as their new general manager.
Hawks principal owner Tony Ressler announced the hiring of the Golden State Warriors assistant GM this week. Maybe just another reason to suck!! New GM with a world of issues and an Eastern Conference Division dominated by LeBron James and the Cavs, rebuild now while James is still strong and in 3-5 years hope and pray the Hawks make the right moves in the draft and free Agency. And God willing they can sneak into a lottery or 2 and find thier Super Star. It will be a little tough to find a way to spend 90% of the $100 million cap but let's figure it out! Schroder has around $16 million salary, Dwight over $23 million and Bazemore $16 million as well, we can suck with those guys! I feel bad for Denis Schroder because he is a really good point guard and I don't think he will handle losing well. We will see, or we won't , but I think this team needs to be bad to be good!
Let's do what DQ, TD and Matt Ryan are doing, but the opposite…Embrace The Suck!!
Brian Finneran
Co-Host "The Front Row"
680 The Fan
Twitter: @BFinn86


THANK YOU to 680 The Fan for the generous donation of 1,000 canned food items for our CAN HUNGER Food Drive today at our North Atlanta Branch!  With contributions like yours, we are well on our way to collecting 56,000 cans (23 tons) this month for local food banks.
Listeners, please help any way you can!  Georgia United Credit Union invites you to participate in our annual "CAN HUNGER" food drive benefitting local food banks in our communities, February 1 through February 29. Help us stock the shelves of your local food pantry and feed neighbors in need. Locally, donations may be dropped off at one of Georgia United's branches or you can make a $1 donation and Georgia United will purchase a food item for you.
The most requested/needed items are:
• Peanut butter
• Canned tuna & chicken
• Canned fruit & vegetables
• Canned soups, stews and pasta
• 100% fruit juice • Boxed pasta and rice

Please help any way you can!  CLICK HERE for more information!
Thank you and thanks for listening to 680 The Fan!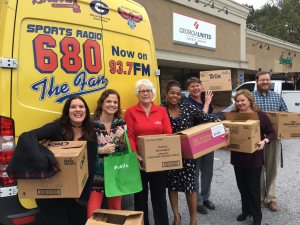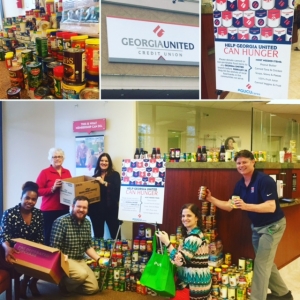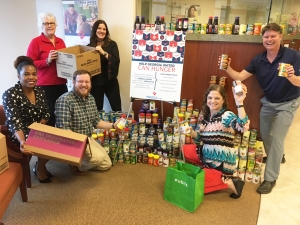 Finn and Cellini had a BLAST at 680 THE FAN'S "Guys Night Out" with the Georgia Swarm at their Infinite Energy Arena home opener!  See samples of the action for yourself, and make plans attend a game SOON!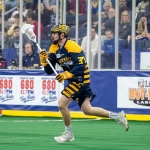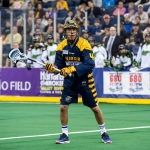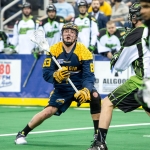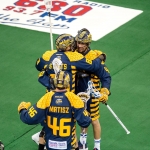 Georgia Tech can't recruit defense, can't get better in one on one's or best on best, can't simulate Clemson, UNC, whoever, with an option QB and personnel.  As hard as it is for opponents to prepare for GaTech, it's just as hard for GaTech to prepare on defense for 5 wide, spread gun, down the field passing game due to personnel limitations.  Not to mention, we are recruiting guys who's best offer is a directional Louisiana school or FCS.  Can't roll into Death Valley or Blacksburg or anywhere with that personnel.
Arguably our best player on defense, PJ Davis. (Stats HERE.)
Decommitted from Temple, other offers include UT-Chattanooga and Coastal Carolina.
Bottom line…GaTech gets beat consistently by teams with better players, can't match up athletically on defense and get dominated at the line of scrimmage on offense.
Corey Griffin…starting safety…only offer UAB (Stats HERE.)
Looks like Brees is taking a hometown discount! Per ESPN's Ed Werder noted that while Brees' extension is for five years, it automatically voids to two in which he'll be owed $44.25 million in guaranteed money. Maybe he saw that if he took $25 million the Saints couldn't sign anybody else to protect his ass! It looks like a Perfect deal for each involved. So now if he A, gets hurt badly or B, shows his age, he doesn't have to be there anymore. The Saints though now are officially on the clock to get another quarterback. And if he can still play after two years then they can sign him again for another year. It looks like a nice situation for both parties and especially for the Saints who have a HOF QB for a few more years. Oh yeah, and they just released last years 3rd round pick Garrett Grayson who apparently wasn't the heir apparent. So the question is who will be the next QB in New Orleans??
Finn
Well, it looks like Arthur Blank got his Super Bowl! Let's hope he wants his team to win a Super Bowl as much as he wanted one in the city of Atlanta, which I'm sure he does! They did everything necessary to get this thing here, they were on hard knocks (brutal) they played in London( rough game vs Detroit) and they built a billion-dollar stadium, seat licenses and all. We can only hope the weather holds up because the last time they had a Super Bowl in Atlanta,  it didn't go so well, ice storm! I do think this is a great thing for the city of Atlanta and for the people here to enjoy.
I've never been to Super Bowl game as a player or to watch, and I don't know that I don't change and 2019 when it comes to Atlanta. I will however enjoy the scene, the nightlife, the NFL Players parties and the congregation of past teammates and friends. It will be a special couple weeks and hopefully everything goes according to plan. Working in the media with 680 the fan will allow me access to a ton of interviews, media row, and the game itself if I so desire, so those will be some nice perks for me. All in all it's a win for Mr. Blank and for me! I'm looking forward to it!
Finn
Most glaring need was ignored, DE not addressed. This team may very well be the worst at sacking the QB again this year!
Speed speed and more speed is what the Falcons wanted and they got it. Hopefully these guys can play at this level and run fast too! CT(Competitive Toughness) that is what they were looking for and dr
afting, according to what they said after the weekend. Everything is a phrase or a gimmick with these guys TD and DQ and Blank, they can't just go out and coach, draft or own a team without nonsensical bs!!
I like their draft for the most part, no pass rush is a head scratcher but maybe Clayborn, Shelby,Upshaw, Reed, Beasley and company can get it done themselves? I don't see any way they do, but maybe….over under on sacks next year? 25?
Neal- hitter, explosive and quick -hope he stays healthy
Jones- speed and good football instincts, recognizes plays and reacts, Plays his assignment. needs 10 lbs of muscle
Hooper- raw talent, nice size and big hands, hopefully we got a good one. Much better than Toilolo i hope
Campbell- Leonard Floyd type, long and lean, needs muscle and weight but good looking athlete
Schweitzer- San Jose St, not even on some draft analyst database, big strong guard that played Tackle in college, high school wrestler too
Fuller- 5th WR, speed!! new return man, cut Hester? Coach Armstrong doesn't like rookie returners, will be interesting.
Blank wanted 3 starters from this draft, I'm not sure he going to get it.
Finn
Mar 08, 2016 — 4:07pm
The debacle at the combine with Cox pushing a scout & now the gay questions from Marqund Manuel, Roddy exposing Shanahan for everyone to see, the stadium delayed a minimum of 3 months, only having 5 draft picks due to the crowd noise issue #NoiseGate. How in the world is a fan supposed to feel about this organization?  How much blame on this latest incident fall on DQ?
The last couple weeks and the whole offseason for that matter has been a bit of a disaster up at Flowery Branch! Can the Falcons get through the next few months unscathed? No arrest, no over paying for average free agents, no drama in the building and hopefully no swings and misses at the draft! I have no idea, but "Positive Finn" will certainly be hoping for a clean slate for all of the above mentioned items!
My Dream Come True:
Shanahan realizes that he has to bend a little to get the team to be all in, dish out some responsibilities to his coaching staff and lightens up on the play book. Matt Ryan shows us that last year was a fluke and has 30 TDs and 10 INTs Devante Freeman and Tevin Coleman become a dynamic 1-2 punch, the Center position is addressed and fixed through free agency, Roddy White's replacement is a beast and takes advantage of 1 on 1 coverage, the defense improves and gets 30 sacks this coming season( through draft picks and Free agent moves), we find a LB or 2 that can stay healthy, play fast and be game changers! Oh, and we continue to be great on Special Teams, maybe find a speedy returner and release Hester.
A man can dream can't he?
Jan 13, 2016 — 9:31am
Sandra Golden did her usual daily 2-a-days report the other day and told a story about a 15 year old receiving a scholarship, just made me shake my head. I made a note when I heard her mention it. My son Keenan is 14 and will grow another foot or more by the time he is 21, I couldn't imagine him being looked at by colleges at this point in his young innocent life. Although it would be very flattering, it would mean very little for Keenan's mother and I, so much can happen between now and 4 years of high school. Crazy times in CFB man!! Why even waste their time offering a scholarship, so much can happen between now and 4 years!! It truly does blow my mind, but so does the attitude and mindset of young football players and parents these days and how they view their children. Sports should be fun, then sports should keep you in shape, then sports should help you learn team work, discipline, dedication and perseverance, then in High School it should do all those things and give you the opportunity to go get a great, free education and a major college or university, then just maybe (less than a % of where we started back in 8th grade) you will get a chance to play a professional sport…but it's not likely. I hope these young athletes keep everything in perspective and stay grounded, must be hard to do with all these scholarship offers rolling in!! Good luck!
Here is the story:
http://m.bleacherreport.com/articles/2414039-south-carolina-offers-8th-grader-dominick-blaylock-son-of-mookie-blaylock
Dec 18, 2015 — 12:04pm
The concussion conversation and a dumb ass tweet some guy sent me got me thinking about why football and sports in general are so important. Could you imagine not playing a sport..EVER?  Whether you are a runner, football player, basketball, baseball, soccer, softball, cheerleading, gymnastics, volleyball, etc sports dominate our world! Not only in sport but in business! Ask a CEO if 2 candidates for a high ranking job are equal and one played football and the other didn't, who gets the gig?? Discipline, teamwork, dedication, fight, grit, determination, and on and on those are the qualities and characteristics athletes possess. Playing sports in as important as waking up and breathing every day, it makes our world go round! Some just aren't athletic and are better at other extracurricular activities but athletics builds character and molds who people are.