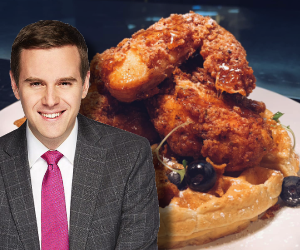 If your idea of a great night out is intelligent conversation, the company of good friends, and great food, then XTRA 106.3FM has the contest for YOU!

ENTER BELOW today for your chance to win a private Dinner For Two with Fox News Radio's Guy Benson at FARMED Restaurant + Bar with a meal prepared by Master Chef Daryl Shular!

WHERE: FARMED restaurant + Bar – 1927 Lakeside Parkway, Suite FK01, Tucker, GA 30084
WHEN: Evening of February 10th

GUY'S NIGHT OUT with Guy Benson
Enter today for your chance at a dinner with XTRA 106.3FM's Guy Benson!

ABOUT FARMED Restaurant + Bar
At FarmED Kitchen and Bar, we offer a simplistic approach to modern cooking in an environment driven by education and technical development. At the flagship restaurant of The SHULAR Institute, the guest will enjoy a wide range of modern food styles and custom beverages in our 7, 000 sq. ft open kitchen and bar. In addition, we offer a first-class dining experience, that place our guest in the heart of the operation, with a view into our open kitchen and culinary test lab. This unique experience allows our guests to indulge in the rich sounds, aromatic aromas and witness the exciting visual experience of a fully engaged kitchen brigade. At FarmED we support local food suppliers and farmers by selecting the freshest product direct from the farm to the kitchens here at SHULAR Institute. 
Our operation will feature a wide variety of international-inspired artisan bread, pastries, and desserts, all prepared on-site in our campus pastry shop. In addition, we will offer a Farm-to-Table inspire breakfast and lunch menu centered around fresh salads, custom sandwiches, and stone-baked pizzas and flatbreads. Our evening service will feature daily menus created by our culinary team and lead by Chef Shular.
About Master Chef Daryl Shular
In 2014 Chef Shular etched his name in the culinary history books by becoming the first African-American and minority to successfully pass the grueling 130-hour; eight-day test known as the Master Chef exam. After years of preparation and personal sacrifice Chef Shular prevailed and earned the culinary industry's highest honor, the designation known as Certified Master Chef (CMC).
Shular has been recognized and featured in many media publications, including the prestigious American historical archives "The History Makers". His induction into The History Makers in 2005 made Chef Shular one of the youngest ever and one of only a few African-American chefs elected for this achievement.
Additionally, in 2008 Chef Shular was a member of the internationally recognized ACF United States Culinary Olympic Team, the official culinary regional team representing the United States in international culinary competitions.