Local Atlanta talk legends Neal Boortz and Kim "The Kimmer" Peterson are now part of the XTRA 106.3FM Family! Hear Boortz every Tuesday at 7:30am on "The Morning XTRA" and the Kimmer weekdays from 3pm-6pm!
Start your work day with "The Morning XTRA" featuring the trio of Tug Cowart, Scott Rhino and Carlos Medina. They'll break down the news of the day and get you the straight truth you need on the biggest stories!

Atlanta's Only Conservative News and Talk Station features some of the biggest names in conservative radio! XTRA 106.3FM is Atlanta's home for nationally syndicated "Clay Travis & Buck Sexton Show", "The Guy Benson Show" and "The Jimmy Faila" show.
---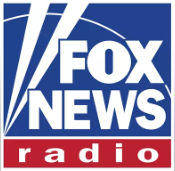 XTRA 106.3FM is also the local home of Fox News Radio, America's most trusted news network.
---
MONDAY
| | |
| --- | --- |
| 12am – 1am | Bill Cunningham |
| 1am-4am | Clay & Buck Weekend |
| 4am-6am | Best of the Morning XTRA |
| 6am-10am | The Morning XTRA |
| 10am-Noon | Glenn Beck Show |
| Noon – 3pm | Clay & Buck |
| 3pm-6pm | The Kimmer Show |
| 6pm-9pm | Jesse Kelley |
| 9pm-midnight | Jimmy Faila |
TUESDAY – FRIDAY
| | |
| --- | --- |
| Midnight-3am | Guy Benson |
| 3am-6am | Kimmer Overnight |
| 6am-10am | The Morning XTRA |
| 10am-Noon | Glenn Beck Show |
| Noon – 3pm | Clay & Buck |
| 3pm-6pm | The Kimmer Show |
| 6pm-9pm | Jesse Kelley |
| 9pm-midnight | Jimmy Faila |
---
SATURDAY
| | |
| --- | --- |
| Midnight-3am | Guy Benson |
| 3am-6am | Kimmer Overnight |
| 6am-9am | Clay & Buck Weekend |
| 9am-10am | All 4 Seasons Home Show |
| 10am-11am | Money Unleashed |
| 11:00:00 AM | Plan to prosper |
| Noon | Ben Burnett Show |
| 1pm-2pm | Your Day in Court |
| 2pm-3pm | Money Unleashed |
| 3pm-4pm | Marketing Madmen |
| 4pm-5pm | Janelle King |
| 5pm-6pm | Eat Drink Smoke |
| 6pm-9pm | Rich on Tech |
| 9pm-midnight | At Home With Gary Sullivan |
SUNDAY
| | |
| --- | --- |
| Mid-3am | Clay & Buck Weekend |
| 3am-5am | Best of Morning Xtra |
| 5am-6am | Public Affairs |
| 6am-9am | Glenn Beck Weekend |
| 9am-10am | Money Unleashed |
| 10am-noon | Best of Morning Xtra |
| noon-1pm | Ben Burnett Show |
| 1pm-2pm | Your Day in Court |
| 2pm-5pm | Clay & Buck Weekend |
| 5pm-8pm | Glenn Beck Weekend |
| 8pm-10pm | Best of Morning XTRA |
| 10pm-midnight | Bill Cunningham |